Getting kids to smile for your family photos? That's the simple part. Pulling together the perfect outfits? Sometimes that's easier said than done. Read my top 7 tips for what to wear.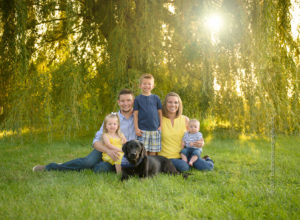 Your photo session begins long before I break out my camera, and it begins in your very own closet. Finding the perfect outfit for you might be hard, but then throw in a couple of kids and a spouse? That's when it really gets tricky. Here are my top 7 tips for what to wear:
Coordinate but don't match.
Matchy-matchy days are over (if they ever were a thing). Instead of everyone wearing matching outfits, coordinate based on color. For inspiration, try picking up a few color scheme paint swatches from your local hardware store to find colors that go together.
Be comfortable!
If your kids aren't comfortable, they're not going to be happy. Put them in clothes they like. Your photo session isn't the occasion for that itchy but adorable dress Grandma made or the too-tight tie for your little guy. This goes for you, too, mom and dad – clothes that fit well and make you feel like you are much better than trendy styles that don't sit right on your body.
Think about your home decor.
You're probably going to be hanging these photos up somewhere in your home. If your house is all rustic chic but your photos are all catwalk couture, they're probably going to clash. Try to pick a color scheme and style that you use throughout your home.
Use the season as your guide, but don't go all holiday.
Plaids, jeans and boots set against a backdrop of fall foliage? Perfect. Scarves, cute coats, and cozy mittens in the snow? Adorable. Santa hats and Rudolph noses? Are you really going to want that hanging above your fireplace all summer long?
While some holiday shots are fine for your Christmas cards, pick your outfits based on season and bring a few holiday props for one or two photos. That means no light-up Christmas sweaters, people.
Add accessories for texture.
Think scarves, necklaces, jackets, and hats. These can add extra color to your outfits and coordinate two outfits together. For instance, mom can wear a cute plaid scarf that coordinates with a little newsboy cap on your son.
Avoid big and distracting patterns.
As fun as big floral prints or crazy stripes are, they're going to take away from the focal point of your photos: your family. This goes for character-themed clothes for your kiddos, too (Moana may be cute, but let your daughter wear her Moana T to school, not your photo session). We want to show off your family, not Winnie the Pooh or the 50 giant hibiscus flowers on your dress.
Think about the backdrop.

Are we planning to take your photos in your studio? At your home? Outside somewhere? All of this will play a role in outfits you choose. If you're outside surrounded by green, choose brighter colors that stand out from your setting. Too many dark or foresty colors will camouflage you. At home, you'll want to choose clothes that coordinate with your decor so you don't clash. You have a little more leeway in the studio because we can vary the backdrop.
Is it time to schedule your family photos? Let's chat!